Ultimate Central America
Booking Dates
06/21/2023 through 10/09/2024
Travel Dates
06/21/2023 through 10/12/2024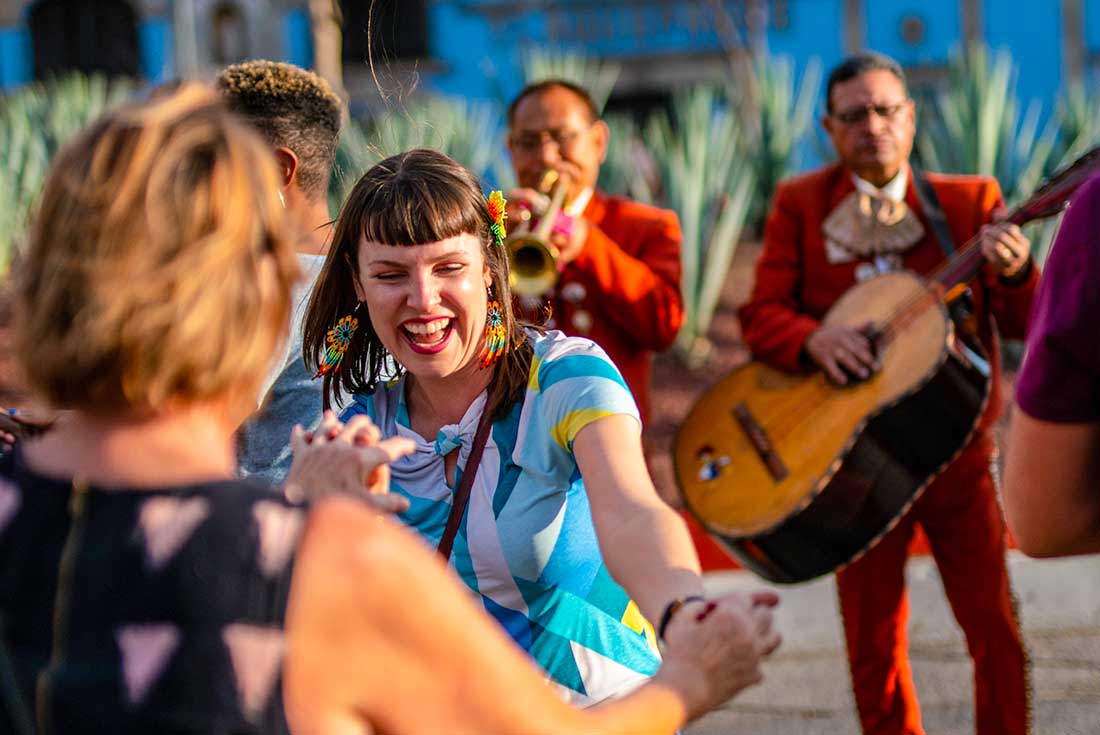 Ultimate Central America

Embark on an in-depth Central American adventurel from Mexico's capital to the home of the Panama Canal. Pass through Mexico, Belize, Guatemala, El Salvador, Honduras, Nicaragua, Costa Rica and Panama on a small-group journey through remote villages, traditional cities, ancient Maya and Aztec ruins, verdant cloud forests and pure Caribbean beaches. Get acquainted with the local cultures, spectacular landscapes and fascinating histories of Central America as you explore the wealth of tradition, spot the range of unusual wildlife, dive into unique underwater worlds and spend time travelling at your own pace. Did you hear that? Central America is calling – you better Belize it.

Activities
Mexico City – Leader-led Taco Crawl
Mexico City – Leader-led orientation walk
Leader-led Informal Spanish Lesson
Puebla – Leader-led orientation walk
Puebla – Visit to La Pasita Bar
Tlahuac – Community Visit
Oaxaca – Leader-led orientation walk
San Cristobal de Las Casas – Leader-led Orientation Walk
Zinacatan Church – Visit
San Juan Chamula – Maya Church (entrance fee)
Agua Azul – Waterfall Visit
Palenque – Palenque Ruins (entrance fee)
Merida – Leader-led orientation walk
Chichen Itza – Archaeological site (entrance fee, no guide)
Playa del Carmen – Leader-led Orientation Walk
Caye Caulker – Leader-led orientation walk
San Ignacio – Leader-led orientation walk
Tikal National Park – Tikal archaeological site (entrance fee, no guide)
Leader-led Informal Spanish Lesson
Chichicastenango Market
Chichicastenango – Shaman Visit
San Jorge La Laguna – Traditional Maya Homestay
Panajachel – Leader-led orientation walk
Antigua – Leader-led orientation walk
San Miguel – Salvadoran Pupusa cooking demonstration
Copan Ruins – Visit
Suchitoto – Leader led orientation walk
Leon – Leader led orientation walk
Granada – Breakfast at El Cafe de las Sonrisas
Monteverde – Leader-led orientation walk
La Fortuna – Leader led orientation walk
San Jose – Leader-led orientation walk
Puerto Viejo – Leader-led orientation walk
Puerto Viejo – Hands-on dinner in local home
Boquete – Leader-led orientation walk
Leader-led Informal Spanish Lesson
Panama City – Leader-led walk in Casco Viejo
Panama City – Leader-led walk along part of the Cinta Costera (Causeway) including a visit to the Fish Market
Highlights
The stars of this trip are the dramatic and varied landscapes of lush Central America. If you're thinking active volcanoes, idyllic beaches and emerald jungles – this trip has got you covered.
Escape the Mexican heat in the highlands of San Cristobal de las Casas. This old-world town is surrounded by indigenous villages that have retained their traditional customs and roots.
Get to know contemporary Maya life during a homestay in San Jorge La Laguna, a lakeside village where you can share meals and conversation with a local family.
Clear sea perfect for swimming, shacks serving cold cerveza and sandy shores covered in starfish are waiting in the Bocas del Toro, where you spend three nights on Isla Colon.
Head to the coffee plantations, waterfalls and caldera hot springs of Boquete, a highland town so beautiful you won't miss the beach one bit.
Hike, cycle or zip-line through the steamy cloud forests of Monteverde – there's so many ways to experience the lush canopies and unique Central American wildlife.
| Day | Description | View All |
| --- | --- | --- |
| Day 1 | Mexico City | Details |
| Day 2 | Mexico City | Details |
| Day 3 | Puebla | Details |
| Day 4 | Puebla | Details |
| Day 5 | Oaxaca | Details |
| Day 6 | Oaxaca | Details |
| Day 7 | Oaxaca / Overnight Bus | Details |
| Day 8 | San Cristobal de las Casas | Details |
| Day 9 | San Cristobal de las Casas | Details |
| Day 10 | Palenque | Details |
| Day 11 | Palenque Ruins / Merida | Details |
| Day 12 | Merida | Details |
| Day 13 | Merida | Details |
| Day 14 | Chichen Itza / Playa del Carmen | Details |
| Day 15 | Playa del Carmen | Details |
| Day 16 | Playa del Carmen | Details |
| Day 17 | Chetumal | Details |
| Day 18 | Caye Caulker | Details |
| Day 19 | Caye Caulker | Details |
| Day 20 | Caye Caulker | Details |
| Day 21 | San Ignacio | Details |
| Day 22 | San Ignacio | Details |
| Day 23 | Tikal National Park | Details |
| Day 24 | Rio Dulce | Details |
| Day 25 | Rio Dulce | Details |
| Day 26 | Antigua | Details |
| Day 27 | San Jorge La Laguna | Details |
| Day 28 | Panajachel | Details |
| Day 29 | Antigua | Details |
| Day 30 | Antigua | Details |
| Day 31 | Antigua | Details |
| Day 32 | Copan | Details |
| Day 33 | Suchitoto | Details |
| Day 34 | Suchitoto | Details |
| Day 35 | El Cuco | Details |
| Day 36 | El Cuco | Details |
| Day 37 | Leon | Details |
| Day 38 | Granada | Details |
| Day 39 | Granada | Details |
| Day 40 | Ometepe Island | Details |
| Day 41 | Ometepe Island | Details |
| Day 42 | Monteverde | Details |
| Day 43 | Monteverde | Details |
| Day 44 | La Fortuna | Details |
| Day 45 | La Fortuna | Details |
| Day 46 | San Jose | Details |
| Day 47 | San Jose | Details |
| Day 48 | Puerto Viejo de Talamanca | Details |
| Day 49 | Puerto Viejo de Talamanca | Details |
| Day 50 | Bocas del Toro / Isla Colon | Details |
| Day 51 | Bocas del Toro / Isla Colon | Details |
| Day 52 | Bocas del Toro / Isla Colon | Details |
| Day 53 | Boquete | Details |
| Day 54 | Boquete | Details |
| Day 55 | Santa Catalina | Details |
| Day 56 | Santa Catalina | Details |
| Day 57 | Panama City | Details |
| Day 58 | Panama City | Details |
| Day 59 | Panama City | Details |